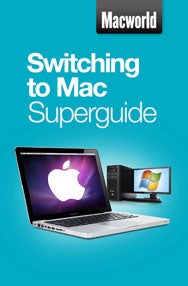 The latest book in our popular Superguide series, Macworld's Switching to Mac Superguide , is aimed at new Mac owners who are making their first baby steps into the OS X world. If you or someone in your family is finally making the switch to a Mac from a PC, this indispensable guide can help with the big move. It's also our first Superguide to be sold in Apple's iBookstore.
Moving from Windows to OS X means rewiring your muscle memory and learning to do old things in new ways. The basic stuff you do dozens of times a day—opening and closing programs and files, managing windows—are all done differently on a Mac. Switching can feel like you've been transported to a country where the language sounds vaguely familiar, but is definitely not your native tongue. This book will be your guide and interpreter.
In Macworld's Switching to Mac Superguide, we give you a quick orientation to your new computing landscape and its principal parts (the Finder, the Dock, the Menu Bar). We explain how to work with files and programs and how to get started with OS X's built-in applications.
We also walk you through the process of moving—transferring old files to the new system and customizing, and even show you how to run Windows on your Mac (if you must) or to share files, screens, backup drives, and routers between your new Mac and Windows PCs. Think of us as a friendly new neighbor: eager to welcome you and happy to do whatever we can to help you settle in.
If you can't quite leave Windows behind, don't worry. You can run Windows right on your Mac. We'll tell you what tools you need and how to get started. Finally, just in case you hit a few bumps on the road with your Mac, you'll find instructions on how to troubleshoot your Mac like a pro.
The book is available in several formats, so you can choose the one that works best for you. If you want access to the book from an iPad or iPhone, download it from the iBookstore for $9.99. If you're interested in a PDF (suitable for viewing in Quick Look, Preview, Adobe Reader, and all those PDF viewers for the iPad, including iBooks), you can buy one and download it immediately for just $12.95. Don't want to download the PDF? You can also get it mailed to you on CD-ROM for $12.95.
If you want to see more before you shell out for this book, we've created a downloadable sample that includes the book's complete table of contents as well as some sample pages.
Note: When you purchase something after clicking links in our articles, we may earn a small commission. Read our affiliate link policy for more details.