Flickr offers its own iPhone app with basic features, but Yahoo's photo-sharing service has yet to really embrace the iPad. Meanwhile, developers have seized the opportunity to release their own iPad Flickr clients, like Keeple's Flickr Studio.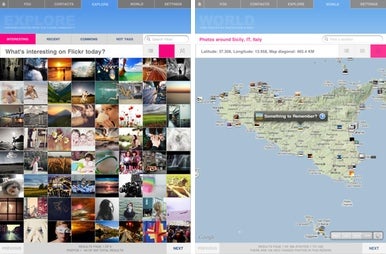 Flickr Studio, like Flickpad, Photo Pad, and others, is essentially a native iOS interface for Flickr, with large buttons and a clean layout maximized for the iPad's display. You can browse your photos, videos, sets, and collections, check out your friends's latest shots, or explore the entirety of Flickr. Flickr Studio can act as a digital photo frame and show you photos based on your location or a place you tap on a map.
Pro Flickr account members can display their photos at the highest resolution Flickr provides, but you can use Flickr Studio to explore Flickr even if you don't have an account at all.
Keeple offers a glimpse on its App Store page into what's coming to future versions of Flickr Studio. Upcoming features include caching all of your photos for offline viewing; editing your photo data like title; description; and tags; managing photo sets; geo-tagging photos; favoring photos; commenting; and groups.
Flickr Studio is available now in the App Store for $5 and requires an iPad running iOS 3.2 or later.
Note: When you purchase something after clicking links in our articles, we may earn a small commission. Read our affiliate link policy for more details.