If it seems like it was only last month that Calvetica debuted as a unique, clean, and Helvetica-ized alternative to the iPhone's built-in Calendar app, that's because it was. Mysterious Trousers, Calvetica's developer, listened to user requests, and it's already back with a major 2.0 upgrade.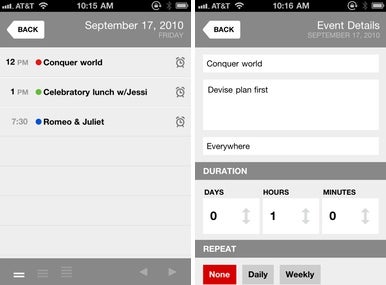 New in this stylish-yet-useful replacement for Apple's Calendar app is support for multiple calendars, all-day appointments, and an easier way to move events. You can customize many more event details now, too, such as adding notes, listing a location, and creating repeat events.
A week view is still MIA (Calvetica only does month and day views), but the day view now has filtering options so you can scroll through every hour of the day or view a condensed list of just the day's events. Speed and interface improvements, as well as a handful of customizable new settings (including a new optional icon badge), round out this 2.0 upgrade.
These additions enhance Calvetica's existing unique features, such as requiring only two taps to create events or add alarms, as well as a dedicated notifications window that displays upcoming events with alarms.
Calvetica 2.0 is available now for $3 in the App Store and requires an iPhone or iPod touch running iOS 4.0 or later.
Updated at 2:32pm PT to highlight one often-requested new option in Settings.