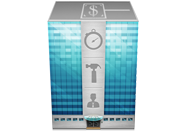 Oranged Software this week announced the release of Studiometry 8, the latest version of the company's project management software.
Since Studiometry 7's release last December, the company says it's been hard at work creating the next iteration of the program. Oranged touts Studiometry 8 as its biggest update ever, and the application's version history confirms it—the new release sports more than 100 new features, bug fixes, and tweaks.
Highlights include a revamped interface and appearance for the program; a new template system called Blueprints for easy duplication of commonly-found expenses and recurring fees within projects; an updated calendar with added functionality that allows users to view employee calendars and filter events by item type or a search; automatic e-mail receipts; an improved Gantt Chart for tracking items; and HDD project archiving, to take the load off the program but keep your data intact.
If you've never used the program before or you're curious about upgrading from a previous version, Studiometry is available from Oranged Software's Website for a 30-day free trial; a brand new license for the program will run you $200, while an upgrade from Studiometry 7 costs $60.