At a Glance
Expert's Rating
Our Verdict
If you've been using a Mac for more than a few years, you've probably seen—and perhaps owned— Griffin Technology's PowerMate, a chunky, aluminum "multimedia controller" (read: a large, solid knob that doubled as a button) that could be configured to perform various tasks. But as Mac OS X has evolved over the years, the PowerMate's software didn't, which for many people made the device little more than a stylish paperweight.
Hopefully you didn't recycle or otherwise dispose of your PowerMate, because Griffin recently released PowerMate 3.0, a Snow Leopard version of the PowerMate's software, and in addition to compatibility with Mac OS X 10.6, PowerMate 3 includes a number of new features.
As with older PowerMate software, version 3 lets you assign actions to various PowerMate triggers: rotate left (clockwise), rotate right (counter-clockwise), press, long press (holding down the button), and press-rotate combinations. But you can now also use modifier-key versions of these triggers (for example, Command+press). This allows for many, many more distinct triggers.
For any trigger, you can choose to perform one of a slew of possible actions:
Open a file
Perform a mouse action
Launch an application
Simulate a keypress, key release, or keyboard shortcut
Bring up an onscreen iTunes menu that lets you use the PowerMate to control playback, choose content to play, and rate tracks
Perform a Growl action
Open a URL
Bring up a custom onscreen interface (which Griffin calls a "menu") containing multiple actions—you use the PowerMate to choose the action you want to perform
Bring up an onscreen menu for browsing, and acting on, Address Book contacts
Clear the state of the PowerMate's blue-LED base
Bring up a menu that lets you switch between currently running program
Run an AppleScript
But you can also customize the PowerMate to perform different actions in different programs so, for example, Command+press performs one action in Safari and another in Mail.
Creating a new PowerMate "macro" is simple, although first you need to decide where that trigger works. If you want it to work anywhere, in any program, you add the new trigger under the Global group (either by selecting the Global group and then choosing Add Trigger from the Add Item toolbar menu, or by dragging Trigger from the Library palette onto the Global icon). To restrict the macro to a specific program, just add the trigger under that program's icon. If the desired program isn't already listed, you just create a new group and then click the group's Choose button to select the target application. (Most of the stock Mac OS X and iLife applications are already listed, each with preconfigured actions. For example, rotating the PowerMate scrubs in iMovie but scrolls the current Web page in Safari.)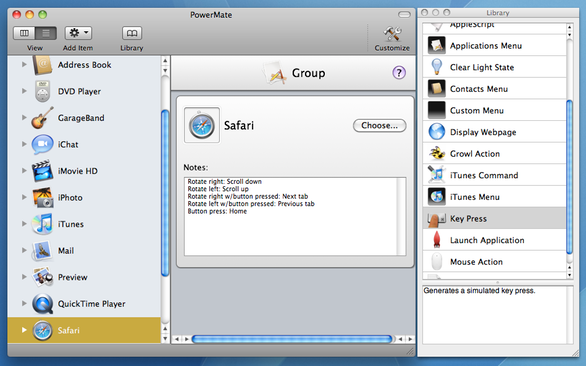 You then add a trigger to the desired group or application, and then add an action to that trigger—again, either by using the Add Item menu or by dragging the trigger and action from the Library palette.
In addition to creating application-specific settings, you can also create entirely different sets of settings, each with its own global and application groups, and then switch between those sets. Unfortunately, switching between sets is more of a hassle than it could be—it would be great if you could switch sets using PowerMate 3's systemwide menu. However, sets are also useful if you happen to have multiple PowerMate controllers. You can assign a different set to each device, so, for example, pressing the PowerMate on the left side of your desk performs a different action than pressing the other PowerMate sitting on the right side.
A neat feature is the capability to choose how the device's LED-lit base behaves: always on, always off, pulsing, or—based on the light's brightness—reflecting the current system volume, audio-input level, or CPU load.
PowerMate 3.0 does have a few limitations and glitches. For example, you can't adjust the scrolling speed for the mouse-scroll action, and a few of the iTunes-menu actions—for example, switching to a different playlist—didn't work for me. I also experienced an issue with multiple displays where my PowerMate "menus" started appearing on my secondary display, and I couldn't figure out how to get them back to the primary display. (Quitting and then relaunching PowerMate 3 fixed the problem.) I also found that the Help system was missing information about some features, returning blank pages.
But the PowerMate 3 software works well overall and is sure to be welcomed with open arms by those who've been wondering if their PowerMate would ever do more than collect dust. And if you don't have a PowerMate controller, Griffin told me they plan to start selling the hardware again. When that happens, I recommend snapping one up. Even if you use it only for adjusting your Mac's volume and controlling iTunes playback, it's a neat gadget.
Want to stay up to date with the latest Gems? Sign up for the Mac Gems newsletter for a weekly e-mail summary of Gems reviews sent directly to your Inbox. You can also follow Mac Gems on Twitter.