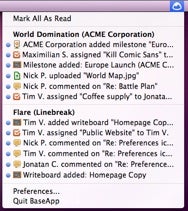 If you find that e-mail notifications aren't the best way to stay on top of activity from Basecamp, 37signals's popular project management and collaboration tool, BaseApp offers an unobtrusive, customizable alternative.
BaseApp is a menu bar utility from Linebreak (the folks behind CloudApp) and Made by Elephant that watches your Basecamp account and reports activity like new projects, task assignments, and changes to Writeboard, 37signals's collaborative text editor. BaseApp can display notifications in a drop-down menu, or you can turn on Growl notifications to be notified much more quickly when it finds new Basecamp activity.
You can customize how often BaseApp checks your Basecamp account for changes, as well as set a system notification sound to accompany the Growl alert (or independently disable sounds altogether). BaseApp also supports multiple Basecamp accounts for users who collaborate with more than one company or team.
A 14-day trial of BaseApp is available, and it requires Mac OS X 10.6 Snow Leopard. A license costs €7 (about $9).