At a Glance
Expert's Rating
Our Verdict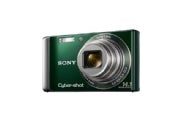 The 14.1-megapixel Sony Cyber-shot DSC-W370 is a solid point-and-shoot camera with a decent array of features for the price ($230 as of March 31, 2010), including a 7X-optical-zoom lens (34mm to 238mm), a 3-inch LCD screen, and 720p high-definition video recording. The camera comes in red, green, or silver.
Due to its bigger zoom lens, the DSC-W370 is a bit on the large side for a point-and-shoot, weighing 6.3 ounces when loaded up with a battery and a memory card (it takes either SD/SDHC cards or Memory Stick in its combo storage slot). At 4 by 2.25 by 1.06 inches, it's just a tad too big to put in your pocket for a night out.
In my casual hands-on tests, I found the image quality to be pretty good–surprisingly little grain appeared at even at the highest ISO setting (3200), colors looked true (but sometimes a bit washed out), and pictures taken in macro mode were very clear.
In PCWorld Labs' subjective jury testing for image quality, the camera also fared very well. Color accuracy and exposure quality were the DSC-W370's strong suits, earning it an overall imaging score of Good. Battery life was a bit less impressive, as the camera's 270 shots on a single charge of its battery resulted in a score of Fair.
Unfortunately, this camera has one very annoying problem: lag time. Not only does it have shutter lag (about 2 seconds for single shots and an even longer lag between shots), it also has noticeable lag whenever you press a button after taking a shot. In fact, I often had to press buttons twice after shooting, because the first press didn't register. Needless to say, this would be especially irritating for anyone trying to shoot fast-action scenes or wanting to review photos quickly after shooting them.
Lagginess aside, the DSC-W370 has quite a few nifty modes that set it apart from other similarly priced point-and-shoots. It features a Sweep Panorama mode, which allows you to take a 243-degree panoramic shot with minimal effort. You just press the shutter button once and move the camera steadily in the direction of an on-screen arrow; if you move the camera too quickly, it warns you that it can't keep up, so there's pretty much no way to make a mess of things. The Sweep Panorama mode is quickly accessible via a selection on the mode dial, and it takes panorama photos from left to right, right to left, up to down, or down to up. It's a great feature for people who like to shoot panoramic views of beautiful scenery–it's fast and easy, and the pictures turn out very nicely as long as there aren't a lot of things moving around in the scene you're trying to capture.
The DSC-W370 also features a self-portrait timer, which is particularly handy for anyone who likes to take pics of themselves for Facebook or MySpace. Using the camera's face-detection technology, the timer waits until it detects your face in the scene and then starts the timer (unlike regular timers, which simply count down from the moment you press the button). You'll also find a mode for a double-portrait, in which two or more faces trigger the camera's timer.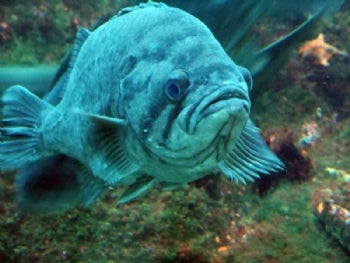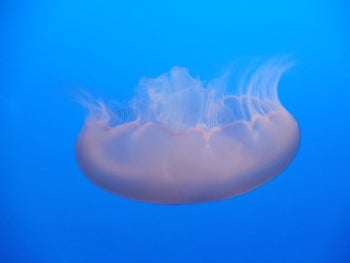 Other noteworthy features include Intelligent Auto mode, which adjusts exposure settings based on a scene's lighting and compsition, and the smile mode, which is gimmicky but works really well. Smile mode snaps a picture automatically when someone in front of the camera is smiling; you can adjust the mode's "sensitivity" in the settings. Smile mode has its own quick-access button on the directional pad, which is interesting because it doesn't really seem like a feature that a person would use very often.
Despite its not having much coverage on the wide-angle end, I got great use out of the 7X-optical-zoom lens. I did some of my shooting at the Monterey Bay Aquarium, and I was able to capture tiny little minnows from several feet away very effectively. The image stabilization–touted on Sony's Website as Optical SteadyShot technology–worked well during my test shots (trust me, those fish were moving all over the place).
The DSC-W370 shoots 720p HD video at 30 frames per second in MPEG-4 format, and you're able to zoom in and out while filming; autofocus worked well in video mode during my hands-on tests. The video gets grainy if you zoom in too much, but looks fine up to about 5X. The DSC-W370 also has an HDMI port for playing on-camera videos on the big screen, and you can record up to 29 minutes (2GB) per movie.
Overall, the Sony Cyber-shot DSC-W370 is a decent camera. It has a lot of cool features for the price, but it's pretty big and the lag time is annoying. If you're looking for a camera that does a lot on a low budget, the DSC-W370 is a nice option; but if you're seeking an everyday camera to shoot with on the go, look for a smaller model that has quicker response times.