At a Glance
Expert's Rating
Our Verdict
If you've got two (or more) displays, it can be a hassle—and an ergonomic hurdle—to access the menu bar when working on any but the primary screen. Similarly, if you've got a huge screen, you may wish it didn't take so much cursor movement to reach an application's menus. MenuEverywhere aims to solve these problems by putting the menu bar nearer to your mouse.
Like longtime Gem DejaMenu, MenuEverywhere lets you configure a keyboard shortcut that puts the menubar—in a compact, hierarchical layout—under your mouse cursor. No matter where your cursor is on the screen(s), the current program's menus are available with minimal mousing.
You can also—or instead—opt to add a "menu bar" to the title bar of the active window, with each menu appearing as a separate button. Because the menu items will cover the window's title, you can configure MenuEverywhere so that the menu-bar buttons appear only when the mouse cursor is over the title bar, or you can have the pseudo menu bar appear above the title bar. (If a program has many menus, MenuEverywhere places the last few in a single hierarchical menu to avoid covering the entire menu bar.)
Finally, you can choose to display a Menu button just to the right of or above the active window's close/minimize/zoom buttons. Click this button, and you get a hierarchical menu listing the menus for the current application.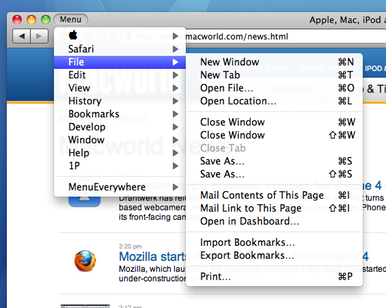 MenuEverywhere bests DejaMenu by letting you include both the Apple menu and keyboard-shortcut labels in its menus, and by letting you prevent MenuEverywhere from affecting particular applications and windows.
On the other hand, MenuEverywhere doesn't work as well with programs that use non-standard windows and menus, and in some applications, there's a delay between when you click MenuEverywhere's buttons, or press MenuEverywhere's keyboard shortcut, and when MenuEverywhere's menus appear. In addition, because of the way MenuEverywhere creates its menu buttons, if you move a window, its MenuEverywhere buttons don't move along with the window. Instead, the buttons remain in place until you stop moving the window, and then they jump to the correct location. But this is mainly a visual glitch rather than an issue that affects functionality.
Want to stay up to date with the latest Gems? Sign up for the Mac Gems newsletter for a weekly e-mail summary of Gems reviews sent directly to your Inbox. You can also follow Mac Gems on Twitter.