Smule's I Am T-Pain app gained immense popularity last year for letting iPhone users emulate rapper T-Pain's trademark auto-tune vocal styling. Rather than let its popular app fade into obscurity, Smule has updated it with a major new feature: the T-Pain Dialer, which lets you send auto-tune messages to anyone with a phone.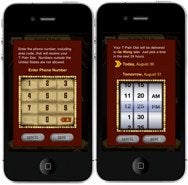 To use the T-Pain Dialer, you simply record your voice message which is automatically auto-tuned, then select a victim number to send it to. You can use one of the app's included hip hop beats as accompaniment for your mischievous message, or send it a cappella.
You have the option to send the message immediately or schedule it for a specific time up to 48 hours later. You can also choose to block your number from the recipient to keep him or her guessing who's behind the mysteriously tuned call. If the recipient doesn't pick up the call, your auto-tune message will be left as a voicemail.
The power to pester your friends with auto-tune messages comes at a price, however. Users get one free T-Pain dial to try out the feature, after which additional calls must be purchased in packs of 3 for $1. To promote the new feature, Smule is offering an introductory price of 5 dials for $1 for this weekend only.
Fortunately, the T-Pain Dialer doesn't rely on your phone service to make the call, which means it can be used on the iPod touch and iPad.
I Am T-Pain costs $1 and runs on iOS 3.1.2 or later.
Note: When you purchase something after clicking links in our articles, we may earn a small commission. Read our affiliate link policy for more details.