Remember the first time you ran Photo Booth on an iSight-equipped Mac? Those endless hours of posing in front of your Mac while Photo Booth's real-time effects wreaked havoc on your face can now be relived with the iPhone 4's front-facing camera and a nifty new app by Libero Spagnolini called FaceMan.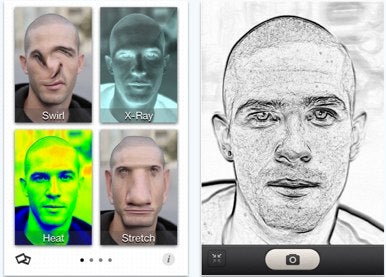 Though it will run on any iOS 4 device, FaceMan is specifically designed to make use of the iPhone 4's front-facing camera. It provides 16 real-time effects that swirl, stretch, distort, and otherwise mangle your face beyond recognition.
Some effects, like Swirl, Stretch, and Bulge, will feel familiar to Photo Booth veterans, but FaceMan has its share of unique effects as well, like the super-pixelated Led, or the glitchy BrokenTV effect. It also features real-time sketch and emboss effects, which have traditionally been available only for still photos.
When you've struck a pose you're happy with, you can capture the image and keep it in FaceMan's built-in album, from where you can transfer it to your iPhone's photo album, or share it via email.
FaceMan costs $2 and runs on iOS 4.
When you purchase through links in our articles, we may earn a small commission. This doesn't affect our editorial independence.