Look for Game Center compatibility to take the form of a familiar face, as Namco Networks' Ms. Pac-Man will soon work with the new iOS 4.1-friendly gaming service launched this week by Apple. Namco made the announcement as part of a preview of its mobile gaming lineup for the rest of 2010.
Game Center debuted this week as part of the iOS 4.1 update released by Apple on Wednesday. The social service aims to help connect gamers with their friends, earn achievements, and find opponents online, but in these early days, it's mostly been marked by a lack of compatible titles.
Namco hopes to change that with an update to its Ms. Pac-Man game. While the company didn't announce an exact release date for a Game Center compatible version, the updated game will let you chomp ghosts and challenge your friends with only a few taps of your finger.
Ms. Pac-Man will be Namco's first Game Center-friendly release, but it won't be the last from the game maker. Reory Howard, associate public relations manager at Namco, is confident his company will ensure future releases are compatible with the service and its leaderboards, social features, and push notifications. He did not comment, however, on whether previously released Namco offerings would follow Ms. Pac-Man's lead.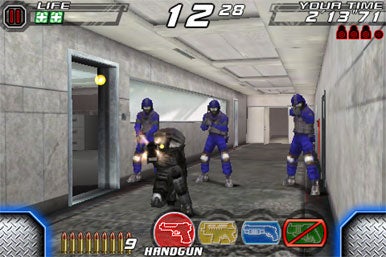 As for other Namco games slated to roll out in 2010, fans of arcade-style gameplay and intense first-person action should be excited to learn that Time Crisis: 2nd Strike is headed to the iPhone. The sequel to the popular first-person Time Crisis Strike rail-shooter promises better graphics, improved gameplay, and a better cover-reload system.
In Time Crisis: 2nd Strike, you take control of a Vital Situation, Swift Elimination (V.S.S.E) agent on a mission to eliminate a global crisis. As you move through the levels, your goal is simple—shoot everything in sight.
The first iPhone Strike game managed to alienate many fans of the series, as the iPhone's accelerometer proved to be a poor replacement for the popular arcade version's foot pedal feature. 2nd Strike introduces touch finger pedals that bring the game back to its arcade roots. During Namco's demonstration of the game, jumping out behind cover and dispatching terrorists was simply a matter of several finger taps.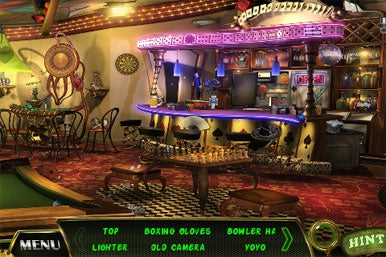 Mishap, a hidden object game for the iPhone and iPad, is also developed and published by Namco. This unique title offers lush backgrounds, a distinctively creepy art style, and an enchanting story told throughout the game. Mr. and Mrs. Burton have moved into their dream home, but there's a catch—it's haunted. Your mission is to find as many hidden objects around their house and then use them to capture unruly spirits. You'll not only find hidden objects but will encounter other ghost catchers, as you're treated to a series of challenging mini-games.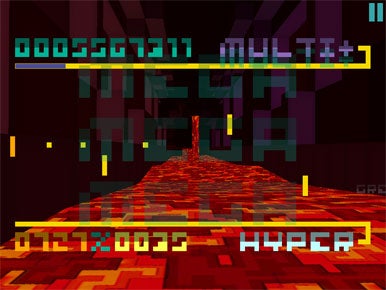 Consider Bit Trip HD to be a unique combination of Pong mixed with Dance, Dance Revolution. Instead of tennis balls, a series of musical notes advance toward your classic white Pong tennis paddle. If you stop a note with your paddle, it will play one note of a song. The more notes you stop with your paddle, the more of the song you'll play. As you advance through the game, songs will get faster and notes will be harder and harder to stop. Developed by Gaijin Games, Bit Trip HD has already garnered praise from fans of old 8-bit games, but we'll see if that enthusiasm can translate to sales on the App Store
What do you get if you cross a "match-three" puzzler with a role-playing game? D3Publisher's PuzzleQuest 2. Coming soon to the iPad via Namco, this role-playing game is set in a fantastical universe full of magic and swordplay. You assume control of either a Sorcerer, Templar, Barbarian, or Assassin on a quest to take back the mythical village of Veloren from the evil demon Gorgon.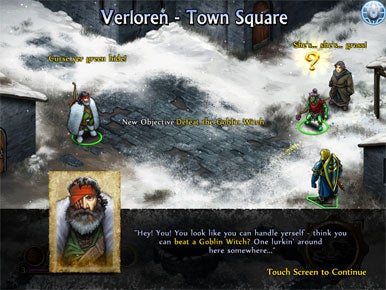 In the PuzzleQuest series, all combat is determined through "match-three" mini-games. You can inflict damage, gather mana, or cast spells depending on your moves in the puzzle elements of the game. A sequel to the successful PuzzleQuest, the new game features more mini-games and active elements than the original. The game also sports new online leaderboards and customizable characters.
Namco didn't give release dates or prices for any of these games. But Howard told us to expect release in the coming weeks with competitive prices.