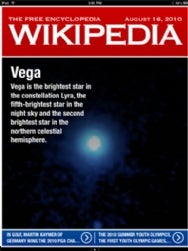 Cooliris released Discover on the iPad back in July as a unique, magazine-ified interface for Wikipedia. Now Discover is back with a big update that adds a number of user-requested features, and even removes one for good measure.
New in Discover 1.1 is offline access to recent Wikipedia entries in your history, a feature the company says was by far users' most requested addition. As long as an article is in Discover's history, you can view it while offline.
While browsing your history, you can now also view covers—the super-sized images Discover uses for Wikipedia's article of the day—alongside other articles. When opening an entry from your history, you will now also be returned to the page where you left off. An updated list of reading font options, a welcome tutorial video for new users, and other bug fixes also fill out this version 1.1 update.
Lastly, Cooliris removed the "shake to return to the cover," as shaking is an action that doesn't seem to be very popular on iPad apps.
Discover 1.1 is available now for free in the App Store. It requires an iPad running iOS 3.2.
Updated at 12:33pm PT to clarify which articles are viewable from Discover's history while offline.