As explained in our first look at Hulu's mobile app, the Hulu online TV streaming service has been busy lately—not only creating a $10-a-month subscription service that brings full seasons of select shows and higher-quality streams to subscribers, but also creating the Hulu Plus app, which allows iOS devices to tune into Hulu. Here's the recap on how the Hulu Plus app works on the iPad and iPhone.
The Hulu Plus interface in the iPad version of the app is quite similar to the experience of viewing Hulu Plus in your Web browser. Four large buttons appear at the top of the screen—Main, TV, Movies, and Queue—a promoted show appears in a large flickable banner below these buttons, and then single episodes of featured shows appear below that banner. You can hide the banner and show more episodes with the tap of an arrow button. In this episode area, you can choose shows by Feature, Most Popular, and Recently Added. Additionally, you can tap a Browse TV button to view shows in alphabetical order. Tap the Search button in the upper-right corner of the display, and you can find content in a variety of ways, including by show, movie, actor, and network.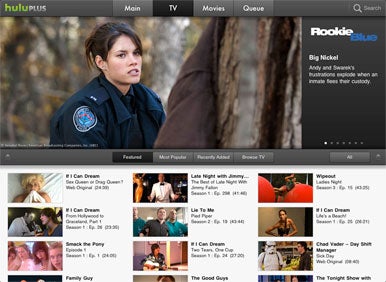 Search still needs some work, however. I searched for the actor Michael McKean (of This is Spinal Tap fame and he's listed only in episodes of Dream On. He's been in many other shows, including select episodes of The X-Files).
The Queue and Subscription features make it easier to quickly view your favorite shows and videos. When you find an episode or movie you like, simply tap and hold on it and then tap Add to Queue in the pop-over window that appears. Later, when you want to view that episode, it's easy to find by tapping the Queue button and choosing it from the list of queued videos. When you subscribe to a show, episodes—either first-run or all episodes—automatically drop into your queue.
When you tap your log-in name at the top of the screen, you can choose to log out, view the details of your account, manage show subscriptions, see your viewing history, give feedback, and access the app's settings (which are currently limited to turning sound effects on or off).
The iPhone version of Hulu Plus is very cramped in comparison. The main page features a single tappable banner and lists episodes below. Similar to the iPad app, the bottom of the display carries commonly used commands including Featured, Popular, Search, TV, and More. Tap More and you see Movies, Recently Added, Queue, History, Subscriptions, and Sign Out. And, just as with the iPad app, you can tap Edit and then drag these items to the bottom of the screen. Tap the All Videos button at the top of the Featured and Popular screens and a selection wheel appears that contains All Videos, Clips, Episodes, and Movies. Choose one and you'll see matching items below.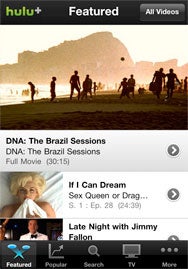 Hulu Plus is smart about recalling the last partially watched show. For example, I started watching an episode of Dream On on my iPad. I quit Hulu on the iPad and launched the Hulu Plus app on my iPhone 4. When I logged in, a small window appeared asking if I'd like to resume watching that Dream On episode. It started playing at a point a few seconds prior to the place where I'd left off.
Regrettably, the app doesn't keep track of the progress of other watched shows. I'd viewed about five minutes of an X-Files episode, for example, which appeared on the History screen. When I chose it on another iOS device, it started playing not from where I'd left off but rather from the beginning. You always have the option to drag the timeline's playhead to a later point in the program or movie, but it would be nicer still if Hulu kept track of where you were in all the videos you've played.
In my first look at Hulu Plus, which had just opened, I noted that playback on the iPhone and iPad could be sketchy—great sometimes and far-less-than great other times with stuttering playback and lock ups. I haven't noticed these issues using the app recently, which hints that work has been done to enhance performance.
So, on either the iPhone or the iPad, Hulu Plus is quite good—with things being less cramped on the iPad (and, of course, the viewing experience better on the larger screen). The question remains just how worthwhile Hulu Plus will be to you. A $10 Hulu Plus subscription doesn't remove commercials—it simply provides more (and more complete) content at a better quality. In regard to older programs, Netflix's Watch Instantly streaming feature (which can be had with a $9-a-month Netflix subscription) offers some of the same TV shows as Hulu and does so without commercials. However, Netflix doesn't offer current TV shows.
If you don't have a DVR, have missed a favorite program, or are simply seeking a way to view popular TV shows without paying for an expensive cable or satellite connection, Hulu Plus is an option worth considering.
[Christopher Breen is a senior editor for Macworld.]