Editor's Note: The following article is reprinted from Macworld UK. Visit Macworld UK's blog page for the latest Mac news from across the Atlantic.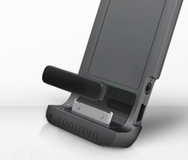 Navigation specialist TomTom has sent word the company is offering a free adapter for users who have updated to the latest Apple iPhone 4.
TomTom has designed a small, easy-to-install external adapter that will affix directly to the TomTom Car Kit for iPhone to ensure compatibility with the iPhone 4. The adapter is the result of what TomTom calls extensive compatibility testing.
Additionally, all new TomTom Car Kits shipping from this month will include the adapter so that both users of the iPhone 4 and previous iPhone models can use the kit. "At TomTom, we remain focused on meeting consumer needs through our continued product innovations, commitment to the mobile platform and support of Apple's advancement," said Tom Murray, senior vice president of market development for TomTom.
"We're pleased to deliver the adapter to our TomTom App for iPhone customers so they can upgrade their TomTom Car Kit without the associated costs that can sometimes occur when they upgrade their mobile device." Orders for free adapters can be placed via TomTom's Website starting this week.
The TomTom Car Kit for iPhone has a suggested retail price of $120 and offers enhanced GPS performance, secure docking, and hands-free calling. Around 21 TomTom iPhone apps are sold separately via the Apple iTunes App Store.