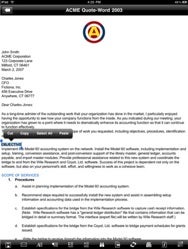 Not content to rest on its laurels while getting bought up by BlackBerry-maker Research In Motion, DataViz has released Documents To Go Premium 4.0 for iPhone, iPod touch, and iPad.
New in this upgrade is a refreshed interface that should make app navigation and document editing more straightforward. Documents To Go Premium 4.0 is also optimized for the iPhone 4's Retina display and supports iOS 4 features like multitasking.
Documents To Go Premium 4.0 also now takes full advantage of external keyboards, offering much requested support for arrow keys. Other improvements include an overall performance boost, the ability to freeze panes in Sheets To Go (the suite's spreadsheet editor), and a handful of new editing options in Word To Go, such as paragraph formatting, left and right indent, strikethrough text, and bullet styles.
Earlier this week, RIM declined to respond to Macworld's questions about the future of Documents To Go for iOS. As of this writing, the regular version of Documents To Go has not been updated, though its App Store entry says that it will be updated very soon.
Documents To Go Premium 4.0 is available now for $17 in the App Store. It is a universal app for iPhone, iPod touch, and iPad that requires iOS 3.2 or later.
When you purchase through links in our articles, we may earn a small commission. This doesn't affect our editorial independence.