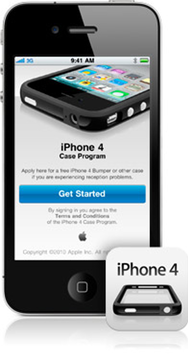 Attention, iPhone 4 users who haven't yet snagged a free case from Apple: your days are numbered. Kind of. Apple recently updated the page on its iPhone 4 Case Program to say that the offer would be discontinued as of September 30, after the company had concluded that the antenna attenuation issue was not as widespread as had been thought.
Apple also says that all iPhone 4s sold after September 30 will be subject to the company's normal returns policy, which involves a two-week window and a 10 percent restocking fee on any opened box. During his press conference in July, Apple CEO Steve Jobs said the company would extend a 30-day return period and waive the restocking fee for users who were unsatisfied with their iPhone for any reason.
Exactly how Apple concluded that the attenuation issue is, in its words, "even smaller than we originally thought" is unclear, though perhaps the company based it on the percentage of iPhone 4 owners who actually took advantage of the offer for a free case.
What does this mean for you, the carefree and merry iPhone 4 user? Well, if you bought your handset before the September 30 cutoff date (which, as of this writing, you all have) but after July 23, 2010, then you can still download the iPhone 4 Case Program app and order your free case through the end of the month. If you bought your iPhone 4 before July 23, 2010, then you're already out of luck: Apple's deadline for you was August 22, 2010.
However, there is some respite for those who suffer from antenna woes and aren't eligible for the case program: Apple says that any users who experience issues with their reception should get in touch with AppleCare to request a free case.
[via The Loop]