High tech case maker IvySkin has released its latest iPhone 4 case, the Quattro 4, as well as a slide-on battery pack that uses an advanced power distribution system to dramatically increase your iPhone battery's life.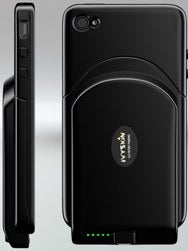 The $45 Quattro 4 is based on the sleek stylings of IvySkin's Quattro T4 design for the iPhone 3GS. The case's polycarbonate shell protects the body of your iPhone while providing access to all of its ports and controls, while its Glass Touch-Thru screen protects your iPhone's display.
The Quattro 4, which is available in four colors, uses a slide-on design for easy docking, and also features push-through protectors for the volume, sleep/wake, and Home buttons.
The SmartCase 4 (pictured) is the Quattro 4 case with the addition of a slide-on, interchangeable 1500mAHh battery pack. The SmartCase 4's battery pack sends a signal to the iPhone to drain the case's power first before using the iPhone's battery—a technique that helps the SmartCase 4 increase your iPhone's battery life by 200 percent, according to IvySkin.
The extra juice comes at a price, however, and the SmartCase 4 will set you back $80.