A short while ago, I reviewed Moodagent, Syntonetic's app that suggests music stored on your iPhone or iPod touch based on your current mood. I was skeptical at first but the app's uncanny accuracy quickly won me over.
A lot's changed since February. Moodagent underwent a major update and since split into two versions—Moodagent Free and the $5 Moodagent I thought I would give the apps a second look to see if my mood had changed.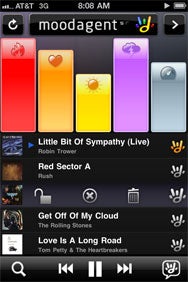 The basic premise with Moodagent remains the same: drag five sliders, each representing various emotional qualities or tempo, and the app will recommend a playlist of songs representing that mood.
Version 2.1 of Moodagent works as well as the original version I reviewed and has added several useful features. You can now swipe across a track in order to either lock it into the playlist, remove it from the playlist, or flag the track or artist to be excluded from all playlists. Also new is the ability to post your playlists to your Facebook or Twitter feeds. Additionally, you can save your playlists and retrieve them from within Moodagent; however you're still not able save them as iTunes playlists. (The app also works on the iPad, but it's not optimized for that device so there are no additional iPad features. It would be nice if Moodagent could take advantage of the iPad's larger display and allow you to either see more tracks in your playlist and/or give you finer adjustment of the mood sliders.)
The difference between the free and paid versions of the app? Moodagent Free includes advertising; the $5 version doesn't. Otherwise, it's a feature-for-feature match. So hats off to Syntonetic for only placing ads in the free version and not reducing the features.
If you're like me, and occasionally need some help breaking out of a musical rut, Moodagent is still an excellent, and more functional, alternative to iTunes' Genius Playlist.
[Brian Beam is a guitar player, Robin Trower fan and partner with BOLD Internet Solutions, living somewhere near Kansas City.]