LaCie on Thursday released two new hard drives. The d2 USB 3.0 and the 2big USB 3.0.
Both drives feature USB 3.0 connectivity. Though Apple doesn't currently include USB 3.0 connectors on any Mac, USB 3.0 is backwards-compatible with USB 2.0. If you have a Mac Pro or a MacBook Pro with an ExpressCard slot, you can add USB 3.0 connectivity by using an expansion card.
New to the d2 line is a 3TB drive; the d2 was previously available in 1TB ($150) and 2TB ($250) capacities. Designed by Neil Poulton, the d2 drive uses a single 7200-rpm drive mechanism. It also has an eco mode, where the drive reduces its power comsumption after 30 minutes of inactivity. The 3TB d2 drive will be available in November.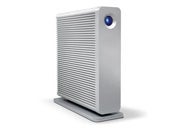 The 2big drive is also designed by Neil Poulton, and features a pair of 7200-rpm drives that can be configured as a RAID 0, RAID 1, or JBOD. The 2big is currently available in 2TB ($350) and 4TB ($580) capacities. A new 6TB 2big will be available in November.
Pricing for the 3TB d2 USB 3.0 and the 6TB 2big USB 3.0 was not available at press time.