DataViz is showing that there's life after Research In Motion's acquisition, after all, for the iOS versions of its Documents To Go apps. The company this week released Documents To Go 4.0 for the iPhone, iPod touch, and iPad, following up on last week's 4.0 release of the Premium version of the office productivity application.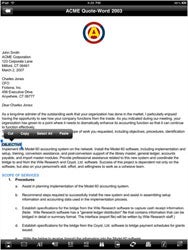 Documents To Go lets users view and edit Microsoft Office files on their mobile devices. Specifically, the $10 standard version of Documents To Go lets users edit, create, and view Word and Excel files while also viewing PowerPoint, PDF, iWork, and other files. The hybrid app has been optimized for both the iPhone and iPad.
The 4.0 version released this week offers speed boosts, full keyboard support, and enhancements to Word To Go and Sheet To Go. DataViz also revamped the user interface and update the app to take advantage of the Retina display in the iPhone 4 and the newly released iPod touch. These are the same features introduced to Documents To Go Premium when that app was updated to version 4.0 last week. (The $15 Premium version adds the ability to view and edit supported attachments using Microsoft Exchange.)
The future of Documents to Go on the iOS platform had been uncertain earlier this month, after smartphone maker Research In Motion said it bought "some of the assets" of DataViz, hiring the majority of its employees to focus on supporting RIM's BlackBerry platform. While it remains to be seen what kind of support iPhone and iPad users can expect going forward, they at least received promised updates for Documents To Go that add the latest features to their productivity apps.
When you purchase through links in our articles, we may earn a small commission. This doesn't affect our editorial independence.