If you're blogging on a Mac, you've probably heard of MarsEdit from Red Sweater Software, and a major update released Tuesday gained a handful of new features and fixes.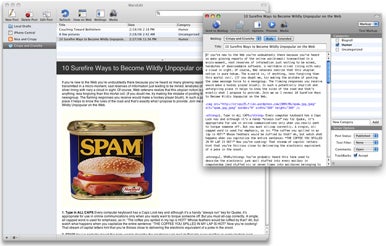 New in this multiplatform, offline blogging client are some media management features, including per-blog image dimension settings, support for Lightroom 3 media libraries, and a "Paste HTML Source" command so you can paste in things like YouTube videos while editing in rich text. MarsEdit will also now allow you to view these pasted HTML elements while editing in rich text.
MarsEdit 3.1 is also now 64-bit compatible. The update supports Google's new version 2.0 Blogger API and fixes some bugs in media management and publishing posts.
This is a free update to current MarsEdit 3.0 owners. If you have yet to experience Marsedit, a free trial is available. MarsEdit requires Mac OS X 10.6 Snow Leopard and a license costs $40.