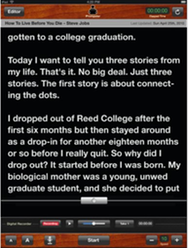 Teleprompters are digital displays that prompt speakers with their script or speech. They're commonly used in broadcasting and at larger public speaking events, but why should the big boys get all the fun? With Varnado Moore's Prompster, you can turn your iPad into a teleprompter to practice or perform public speeches, lectures, or sermons.
Prompster is a teleprompter app specifically designed for the iPad that smoothly scrolls easily readable text for audible presentations. Along with helping you practice and perform public speeches, lectures, or sermons, Prompster can also be used for podcasts, theater, or any other scenario that requires a speaker to communicate with an audience using notes or a script.
Prompster works in both landscape and portrait view and has two modes: an Edit mode for writing speeches and a Prompt mode for delivering them.
In Edit mode, you can write or edit documents, or import text documents from popular word processors like Microsoft Word or Apple Pages via iTunes file sharing. You can also copy and paste content from e-mail or any other app on the iPad that contains text.
In Prompt mode, you can scroll text at variable speeds and adjust the scrolling speed and font size of the text on the fly. A single tap will start and pause the scrolling text, and Prompster will track the elapsed time between starting and finishing.
These features are all available in Prompster LE, which is on sale now for $3, but a pro version, on sale for $10, is also available, and adds a built-in audio recorder that lets you record and listen back to your practice sessions or presentations. Both versions require iOS 3.2 or later.