During my tender years I had a piano teacher who spent more hours talking about the metaphysical than the German Augmented 6th chord. I politely listened as the secrets of the occult were explained to me, noodled the occasional Chopin Nocturne when time allowed, and, the moment the door closed on the lesson, promptly rejected his non-musical musings as complete hooey. My feelings on the subject haven't changed.
Yet, regardless of my rejection of the other-worldly, I take some delight in WhereApps's free Wherefortune. And I do simply for its nice design and overall cleverness. Here's the idea.
You launch the app, which is built for both the iPhone and iPad, and it asks to use your location. Tap the Go to Settings button at the bottom of the screen and you're taken to the Settings screen where you enter such information as your first and last name; gender; e-mail address; and date, time, country, state, and city of birth. (The app includes a command for viewing the company's privacy policy. It essentially says that the only reason you're asked for this information is for the purposes of generating fortunes and reports. No information is shared.)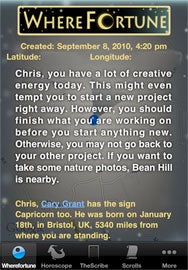 Once you've entered this information the fun begins. Tap the Wherefortune button at the bottom of the screen and the program generates a fortune for you. While that sounds no more interesting than any horoscope you'd find in a newspaper or online, there's something more. Wherefortune incorporates into its fortunes information related to a number of factors, including the time or year and your surroundings, weather, and places near you, for example. Let's say it's a cloudy day and you live within a mile of Springfield County Park. The program might generate a fortune along these lines:
"Jill, you may feel like you are not spending enough time with your loved ones. You normally use gloomy days to get work done, but today you should spend time with them instead. Consider taking them to Springfield Country Park this weekend."
And then at the bottom of the fortune is a little factoid based on information in your settings: "Marlene Dietrich has the horoscope sign Capricorn too, Jill. She was born on 12/27/01, in Berlin, Germany."
So, this little blurb contains your name, a comment about the weather, a pointer to a nearby location, and a fact based on some of your personal data. Like I said, clever.
These fortunes are generated once a day for a specific location. So, for example, if you're at home and tap the Wherefortune button, the same fortune will appear throughout the day. But if you move to a new location, a new fortune will be generated based on that location's conditions.
Tap Horoscope—another button at the bottom of the screen—and you see a daily horoscope. This horoscope is based on "legitimate" horoscopes—the kind you can find on the Web. You also see an iAd banner along the bottom of the screen.
And that's the extent of the free content. Much of the meat of Wherefortune consists of in-app purchases. Tap the TheScribe button and you have the opportunity to purchase reports (astrological charts with interpretation). These reports include Cosmic Power (your positive qualities described), Romance, Soul Scope ("demystifies how you can take control of your future"), Star Lovers ("reveal more about your lover's secret passions"), and Forecast. Reports costs between $2 and $7. Just tap a Create Report button on the appropriate screen, confirm the identity you want the report created for, and tap an Order button to purchase the report. You can purchase longer, more detailed, and significantly more costly reports from the Wherefortune Web site.
I purchased the $2 Cosmic Power Profile report—a 10-page PDF file that contained my astrological chart as well as a general interpretation of my personality based on the positions of the planets, sun, and moon at the moment of my birth. Moments after ordering it, the report appeared in the app's Scrolls screen. (A link to it was also e-mailed to me.) It's a very professional looking document, though I'll leave the question of its accuracy to the believers.
In summary, this is a clever and entertaining way to leverage personal and location information—no belief required. And if you place a measure of faith in astrology and care to purchase more detailed readings, it's easily done via in-app purchase.
Disclaimer: WhereApps' founder, Patrick McGovern Jr., is the son of IDG's Founder and Chairman, Patrick McGovern Sr. IDG is Macworld's parent company. The junior McGovern has no financial or personal interest in Macworld or IDG, however.
[Christopher Breen is a senior editor at Macworld.]