If you're looking to pen The Great American Novel, Part Two or maybe just organize your thoughts and research on a writing project, Literature and Latte's Scrivener is a great resource. The forthcoming version 2.0 will bring even more handy features and refinements for the dedicated writer, and on Tuesday developer Keith Blount showed off some of them in a lengthy blog post.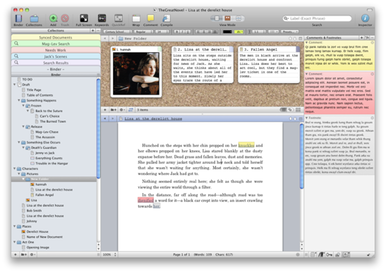 Among the most prominent of the new additions are support for exporting in the ePub format. Not only can you save your document as an e-book that can be read on the iPad, iPhone, or other mobile device, but you can even add a picture as cover art, if you feel so inclined.
In addition, while there are no imminent plans to bring Scrivener to iOS devices, the application has introduced a couple of different features for those who want to take their writing on the go. First up is the addition of syncing with Simplenote, the Web-based service with apps for iPhone and iPad.
You can choose which parts of your Scrivener project file you want to sync, opt to take snapshots of your documents for safekeeping prior to upload, and add a project keyword that makes it easy to find those documents among your other Simplenote entries. Scrivener will even show you which files you've changed in Simplenote the next time you sync.
If you don't have or want a Simplenote account, you can still sync your files with a folder on your Mac, exporting them to RTF, TXT, or Final Draft format if necessary.
While sync and ePub support may be two of the biggest changes in Scrivener 2.0, they're far from the only ones—or even the most noticeable. The developer, Blount, has spent a lot of time tweaking Scrivener's interface and other features to provide an even better experience for its users. He's improved the corkboard view, adding the ability to place cards in a free-form manner and print them out; introduced a page layout view to help screenwriters; tweaked the fullscreen mode to allow for an optional background picture; added custom icons and document templates; and beefed up support for exporting to the Final Draft format.
There's much more, too—enough so, in fact, that Literature and Latte have chosen to make Scrivener 2.0 a paid upgrade. Those using 1.0 or later will be able to grab the new version for just $25; if you've bought (or will buy) Scrivener after August 1, 2010, you're entitled to a free upgrade. The full price for Scrivener 2.0—and, as of Friday, September 17, for the current version of Scrivener—will be $45.
Scrivener 2.0 will run on any Mac running Mac OS X 10.4 Tiger or later, and will be available in October, before this year's crop of NaNoWriMo participants has a chance to put fingers to keyboards.
When you purchase through links in our articles, we may earn a small commission. This doesn't affect our editorial independence.