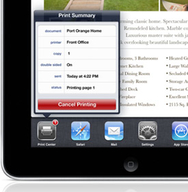 For the dead tree enthusiasts among us, Apple on Wednesday announced details of its forthcoming iOS printing feature, dubbed AirPrint, including a beta that's now available for registered members of Apple's iOS developer program.
Users will be able to directly print to HP printers that include the company's new ePrint feature, debuting in models this fall. According to Apple, iPad users will be able to print text, photos, and graphics via printers on a local network, all over Wi-Fi. Drivers and printing software don't need to be installed, and Apple says there's no setup or configuration.
Details are still sparse, but in addition to HP's new ePrint printers, iOS devices will be able to print to printers shared via a Mac or a PC, and Apple says that it supports printers ranging from entry-level inkjets to office laser printers. Supported models include ePrint-enabled devices from the HP Photosmart, Officejet, Officejet Pro, and LaserJet Pro series.
Wireless printing was first announced as a feature during Apple's music event earlier this month, where Apple CEO Steve Jobs said it would be available in November as part of the iOS 4.2 update for the iPad, iPhone, and iPod touch. Printing is supported from within applications, and involves a new app called Print Center, which appears in the multitasking shelf after printing is invoked.
The release of an AirPrint beta to developers is key, as it will presumably allow them to begin building printing support into their apps now, meaning that they should be ready to go when iOS 4.2 drops in November.