Readdle has released an update for its all-in-one document reader for iPad, ReaddleDocs. Version 1.6 of the app introduces an entirely new PDF reader that features smooth horizontal scrolling and complete support for highlighting and notes annotations, as well as the ability to download and upload files from FTP and SFTP servers.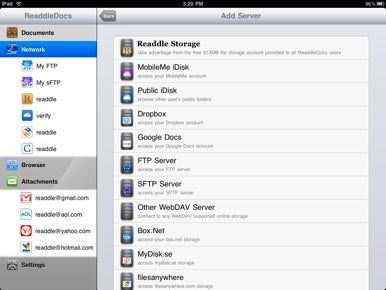 ReaddleDocs's new PDF viewer can open documents of almost any size, features fluid horizontal page flipping, and lets users highlight text and make annotations in the form of notes. Annotations are saved within the document and can be transferred to Apple Preview or Adobe Acrobat Reader on your Mac.
The update also extends ReaddleDocs's network connectivity options with support for FTP and SFTP servers, allowing users to view files stored remotely and even edit them right from the app. It can also let Mac users wirelessly browse documents on their computers from their iPads.
Last but not least is the addition of VGA adapter output support for PDF, Microsoft Office, and iWork documents. This should be especially useful to business people and lecturers on the go, as they can now easily show their documents to a group using just an iPad and a small projector.
ReaddleDocs 1.6 costs $5 and runs on iOS 3.2 or higher.
When you purchase through links in our articles, we may earn a small commission. This doesn't affect our editorial independence.