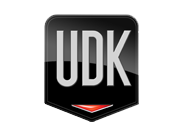 Epic Games president Mike Capps made waves at Apple's music event this month when he showed off Epic Citadel. The app is a demo of Epic's forthcoming iOS role-playing game, built using the company's venerable and powerful Unreal Engine.
But that was just the beginning: this week, Epic announced that it was adding support for iOS to its Unreal Development Kit, the free version of the Unreal Engine, allowing developers to create iOS games.
The kit currently has more than 350,000 installations, according to Epic vice president Mark Rein, who posted the news on Twitter after the company announced it at the Korean Games Conference. In addition to iOS, Rein said it's possible that the company would eventually add support for Android, but that the focus is on iOS for the moment.
The release of the kit is made possible in large part by Apple's recent relaxation of developer restrictions, which now allows programmers to create iOS applications without being tied to Apple's own developer tools.
The Unreal Development Kit is a free download that includes many of the features of its big brother, Unreal Engine 3, though it lacks some of the full version's more powerful capabilities. Still, Epic touts its prowess at not only creating games, but also for other tasks such as simulations and animation.
[via Joystiq]