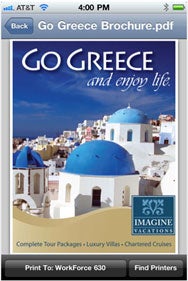 If new details about AirPrint have you eager to print from your iOS device, you don't have to wait around until November to give wireless printing a whirl—provided you've got a Wi-Fi-enabled Epson printer and $7 to spend on a new iPhone app.
PrintJinni for Epson is a new iOS app developed by Thinxtream Technologies in conjunction with the printer maker. According to Epson, PrintJinni lets iPhone, iPod touch, and iPad users print Microsoft Word, Excel, and PowerPoint files as well as PDFs and JPEGs from an e-mail account to any Epson all-in-one device with Wi-Fi capabilities.
The app supports Gmail, Microsoft Exchange, MobileMe, AOL, and other IMAP-based e-mail accounts. Users can download, display, preview, and print e-mail attachments while maintaining accurate formatting. PrintJinni also promises easy discovery of supported Epson printer and all-in-one devices over a wireless network.
PrintJinni's App Store page touts the ability to preview and print Office 2003 and 2007 e-mail attachments. However, an Epson representative told Macworld that the app also works with Mac-compatible Office 2004 and 2008 attachments.
PrintJinni's $7 download fee—an introductory discount from the regular $10 price—includes a one-year subscription to PrintJinni services, which enables users to print Word, Excel, and PowerPoint documents from their iOS device. If users don't renew the subscription after a year—they'll be given the option, the Epson representative told us, as renewal isn't automatic—they'll still be able to print JPEGs and PDFs using the app.