At a Glance
Expert's Rating
Pros
Lets you easily create 3D models from digital camera files
Includes a Photoshop plug-in
Cons
Export capability is limited to VRML or 3DS
Our Verdict
Maya has been a standard in the 3D modeling and animation arena for some time, so much so that some 3D artists don't realize there were other programs before it—and that these full, feature-rich software packages tended to be costly and required a significant investment in high-end hardware. Maya 2011 offers the best in modeling, animation, and visual effects without the high-end price tag.
Having worked with the very first version of Maya, as well as the now-defunct Maya Fusion, it has been exciting to see the program evolve over the past seven years. Additions to the modeling features, animation controls, and dynamics are just some of the ways the software has improved. Advancements in OpenGL technology have also led to a revolution in 3D interface design, allowing users to view textures and lighting in real time. But what's more exciting in this new version is how Autodesk has simultaneously added new features and streamlined the program.
Maya 2011 has a new file browser, a new shelf editor, and tabbed browsing for the channel box and attribute editor. The shelf editor provides a new way to organize your tool icons that is customizable in any way imaginable. For example, it allows for custom arrangement of the 3D tools and adjustment of the label color, background, and more. There is new drag and drop interactivity. It's now possible to dock and undock menus and user interface elements within various parts of the program. These improvements enhance the workflow because artists can better adapt the interface to their work environment or monitor setup.
In terms of performance, Maya 2011 is now 64 bit on OS X, taking advantage of Apple's Intel processors to handle large, complex scenes. Accelerated skinning workflow might not sound like much, but this new feature allows users to create better skinned characters with more realistic deformations in less time. (Deformations allow you to create different shapes within your objects, such as expressions on a face, or the terrain of a landscape.) Along with improved character modeling, Maya 2011 incorporates new Paint Effects, one of Maya's original features that has continually improved over time. Paint Effects gives you the tools to grow leaves, vines, ropes, and much more. Using Paint Effects could tax your hardware, but with the enhanced user interface—based on the Qt framework (shared by other Autodesk applications)—many processor intensive scenes are handled more efficiently. The Qt framework is a cross-platform application development tool used for graphical programs, such as Maya, Google Earth, and others.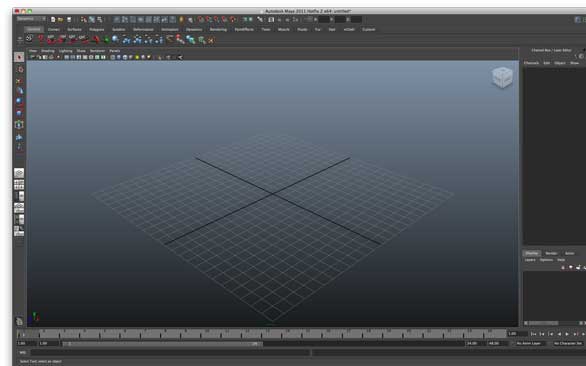 One of the more prominent new features of Maya 2011 is the camera sequencer. This new tool is designed to assist in 3D editing by aiding the management of camera shots. In many ways, it's like a video editor within the 3D application. This means you can lay out multiple camera shots in Maya, and then import an edit decision list into Apple Final Cut Pro. From there, you can change the timing of shots and build variations. You can import an EDL (edit decision list) from Final Cut Pro ( ) or Adobe After Effects ( ) to help better plan and set up your 3D shots.
Maya 2011 offers better dynamics in this version, too and includes new features such as Self Attraction and Repulsion to create high-quality fluid effects. Thus, calculations of things such as collisions, gravity, and wind are now more accurate. Memory handling has been improved so that it automatically adjusts during simulations as needed. The Autodesk team has added a great new library of lighting situations for fluids so you can create internal illumination, along with control over brightness, color, intensity, and hue. Particles can also emit fluids, for effects like drips and smoke. Many new parameters have been enhanced for better viscosity, collisions, and more.
Macworld's buying advice
Maya 2011 is the cream of the crop when it comes to 3D animation software. While the learning curve might be very steep, the improvement in the tools as well as the added new features, make this the ultimate software choice for any serious animator. Maya 2011 has great modeling and excellent animation tools. In addition, its dynamics, particles, special effects, and custom programming bring it quite a few steps above the other programs in its class, such as Maxon's Cinema 4D, NewTek's LightWave, and Luxology's modo. And, considering what such programmatic muscle used to cost, the price tag is also quite reasonable.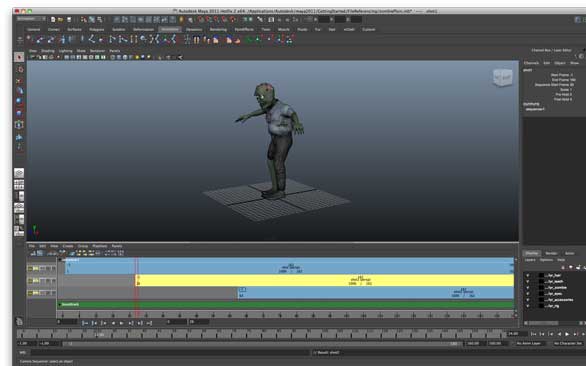 [Dan Ablan is president of AGA Digital Studios in the Chicago area. He has written 13 books on 3D animation, digital photography, and Photoshop. He also operates a photography studio and is the founder of 3D Garage.com, an online training resource. He'll be creating training material for Lynda.com in late 2010.]