An iPhone can make phone calls, keep you connected to e-mail and the Web, and even entertain with music and movies. But can it replace that expensive gym membership and serve as your very own fitness coach? In the case of GymFu.com's apps for the iPhone and iPod touch, it just might. I looked at three of GymFu's offerings—PushupFu, CrunchFu, and SquatFu to see how they fit in with a fitness regime. (There's a GymFu.com app— PullupFu—which I didn't test for this review.)
All of the GymFu apps work the same way. You take an initial test to determine your strength level. After taking the initial strength test, you follow a set 10-week training schedule which culminates in a final test of strength. The GymFu family of programs are similar to the "Wii Sports" series of exercise games: they are designed to help you get in shape while having fun.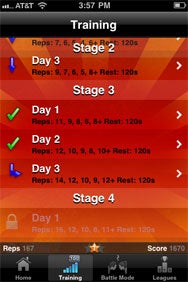 The goals in the three programs I tested are 100 consecutive pushups, 200 crunches, and 200 squats, respectively. As with other exercise programs, you increase reps slowly over time to build up strength.
The GymFu apps monitor your progress in each exercise by using the iPhone's built-in accelerometer. The results are quite good. The app was nearly perfect at recognizing my crunches and pushups but had some trouble measuring my squats, although this may be because I had to hold my iPhone against my leg because my armband isn't large enough to go around my leg. Still, I found the results to be pretty impressive.
The GymFu workouts themselves are easy to follow because all of the apps talk to you. Each app counts your reps, warns you when you're going too fast or not far enough, and informs you of each forthcoming set. The default voice sounds similar to Mac OS X's default voice. Additional voices are available for purchase through the app itself.
The GymFu apps alter your workout based on your results—one of the best features I came across during my tests. A few days into PushupFu, I did nearly twice the required number of push-ups during my final set. As a result, the program skipped ahead to a more challenging portion of the schedule. This "active scheduling" ensured that I would not plateau during my workouts.
The GymFu apps also include a social component called the "battle mode" in which you can challenge other GymFu users to see which who can crank out more push-ups, crunches, and so forth. You issue a challenge by finding other users on the "leagues" screen, which is really just a listing of all GymFu users and their progress. It's important to note that while this information is publicly available under your nickname, only your max number of reps are visible. Of course you can ignore this feature entirely if you so choose; battle mode has no bearing on your progress with your workout schedule.
The GymFu apps are a good choice for anyone looking to track their workouts with their iPhone. (The free SquatFuLite lets you see if the GymFu works for you at no cost; the free version merely restricts the maximum number of reps and bars you from customizing a user-name.) The interactive nature of the apps makes exercising fun and provides simple motivation to complete your goals.
[Macworld contributor Brendan Wilhide covers the sports industry and social media on Sportsin140.com.]