I've spent a lot of time looking for the nearly perfect iPad writing application—something that isn't too flashy, is easy to use, and most importantly, plays well with my one-and-only file synching love, Dropbox. While Second Gear's Elements—Dropbox Powered Text Editor isn't a perfect app, the $5 offering nearly hits my sweet spot and offers most of what I really need.
Elements is a basic, no-frills text editing application designed for your iOS device. (It runs natively on the iPhone, iPod touch, and iPad.) It's similar to the WriteRoom app—which isn't currently available on the iPad—and Simplenote—which is available for all iOS devices—but both rely on cloud-based sync services that make it difficult to use standard Mac-based text editing applications. Elements uses the outstanding Dropbox file-syncing service, so anything you create or edit using your iPhone, iPad, or iPod touch is available to you on almost any computer you have.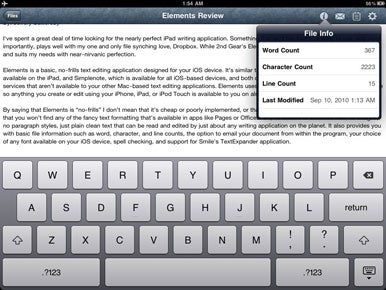 By saying that Elements is "basic" and "no-frills," I don't mean that it's cheap, poorly implemented, or that it lacks necessary features. What I mean is that you won't find any of the fancy formatting options available in apps like Pages or Office2. So, no bolded or italicized text, no images, no paragraph styles. Just plain clean text that can be read and edited by just about any writing application on the planet. Beyond basic word processing, Elements also offers word, character, and line counts, the option to e-mail your document from within the app, and your choice of any font available on your iOS device. You also have the option of using the iOS' built-in spell checker and Smile Software's TextExpander application.
As you might expect, writing using Elements on your iPhone isn't nearly as nice as it is writing on the iPad, screen space being what it is on the iPhone. But I didn't find it to be impossible to work with and, because the iPhone runs iOS 4, I didn't run into some of the file syncing issues that I did when using Elements on the iPad. Elements syncs files to your Dropbox about once every 60 seconds, so what I found was that if I closed Elements by hitting the iPad's Home button after I'd made changes to a document, but before Elements had reached its 60-second sync cycle, my changes never made their way to Dropbox. On the iPhone, because apps are able to run in the background, my files synchronized nicely even if I happened to close the app before the file was synced.
Beyond the iPad file syncing issue, I also wish file organization was a little better implemented. For example, Elements is only able to access documents that are in a folder titled "Elements" inside of your Dropbox folder, so you can't access other documents that you may have stored in other locations in your Dropbox account. Similarly, Elements can't access folders that you create inside the the Elements folder, so there's no way to organize your documents inside the Elements folder, either. Second Gear says it will feature better file organization in a future update.
Small foibles aside, Elements is a top-notch text editing application and the first iOS app I've used that supports true Dropbox syncing and which doesn't require me to jump through iTunes syncing hoops. As a result, Elements is sure to become a writing tool that I use most every day.
[Jeffery Battersby is an Apple Certified Trainer, (very) smalltime actor, and regular contributor to Macworld. He writes about Macs and more at his blog.]