Flying Meat has updated Acorn, its image-editing software, with a healthy serving of big new features and bug fixes, bringing the software to version 2.5.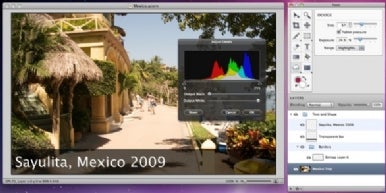 New in Acorn 2.5 is support for layer masks and the ability to set a matte background color for transparent images via the program's Web export tool. There are also new Automator actions for using Acorn to watermark, crop, and otherwise manipulate images with JavaScript.
Flying Meat also added a number of enhancements and behavioral tweaks to Acorn 2.5. Guides now stay in the correct position when resizing the canvas, and holding the Option key when picking a crop preset size will swap the values (say, if you want a 6-by-4 crop instead of the preset's 4-by-6). Of course, a number of bugs were also sacrificed to bring you this new version, so check Flying Meat's full Acorn release notes for all the juicy details.
Acorn 2.5 is a free update to owners of version 2.0, which requires Mac OS X 10.6 Snow Leopard or later. A free demo is available if you're new to Acorn, and a license costs $50.
Note: When you purchase something after clicking links in our articles, we may earn a small commission. Read our affiliate link policy for more details.