The appeal of toy cameras lies in their mystery. Depending on light leaks, film, and lenses, every image captured will be unique. From Red Giant Software, producers of high-end photo and video plug-ins, comes Plastic Bullet, an iPhone app the allows to you replicate some toy camera charm on your iPhone.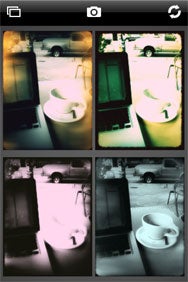 When you launch Plastic Bullet, you can take a new photo from within the app or choose an existing one from your camera roll. It's a good idea to check the settings in the Settings app, and make sure that Plastic Bullet is set to save the original image. That way, you can make as many edits as you please without destroying your original, should you ever want to go back to it.
After you select an image, four thumbnails immediately appear on the screen, showing a plastic-like filter applied to your image. The images have hints of peel-away instant film around the edges, soft focus in areas, new colors that range from near-monotone to heavy contrast, and dark vignetted corners. You can refresh the images by swiping in any direction or by hitting the refresh button on the top of the screen. Each refresh brings subtle changes to the color, vignetting, and overall feel of the image. When you see a look that you like, hitting the Save button saves the image to the camera roll; you also have the option to share an image on Facebook or Flickr, if you have your accounts linked.
There are plenty of iPhone apps available that simulate toy camera characteristics, so it can be a challenge to stand out from the pack. Red Giant Software's $2 offering requires very little input from the user, but creates warm, exciting new looks for your photos every time.
[Macworld contributor Beau Colburn lives in Boston and posts iPhone photos on his site Snap different.]