On Friday, St. Clair Software announced the initial release of App Tamer, a Mac application geared towards giving you a faster computer and a longer-lasting battery through the magic of not-making-your-Mac-work-as-hard.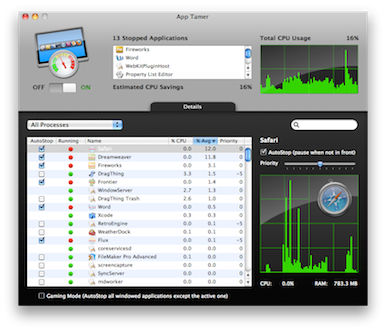 Behind the scenes, deep in the heart of OS X, all Macs have the capability of temporarily halting any running application. This drops its CPU usage to zero, which corresponds to the above increases in system performance and battery life. However, you need some geek skills (or geeky utilities) in order to halt applications, and you have to manually wake them up before they can be useful again. App Tamer aims to provide the best of both worlds.
App Tamer will automatically stop any application you choose when it is in the background, and automatically bring it back to its full vitality when you bring it back to the foreground. You can choose which applications are stopped, how long the pause should be before this occurs, and whether this should happen all the time, or only when you're running off battery power. App Tamer can also helpfully gray out the windows of paused applications to remind you that they've been halted.
I have been testing App Tamer for the last hour or so, and unlike all of the halting utilities I've tried (or invented) before, App Tamer is pure gain with no pain. There's almost no lag time when halting or resuming an app. The only trouble in paradise: a conflict between App Tamer and Mac Gem Witch from Many Tricks Software, which has trouble dealing with halted applications. (Not the fault of either Many Tricks or St. Clair, it's just how these applications are built.)
AppTamer requires Mac OS X 10.5 Leopard or higher, and costs $15 for the first license, or $12 each for multiple computers. A 15-day free trial is available.
When you purchase through links in our articles, we may earn a small commission. This doesn't affect our editorial independence.