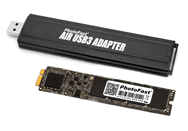 Taiwanese-based PhotoFast on Thursday announced its new GM2 SFV1, an upgrade kit for the MacBook Air. The kit allows owners of the new 11-inch MacBook Air to upgrade from the standard 64GB or 128GB of flash storage to 256GB.
The upgrade kit includes a 256GB flash storage module and a PhotoFast Air USB3 Adapter, which is a USB 3.0-compatible case that holds the flash storage module (the MacBook Air has USB 2.0 ports, but USB 3.0 is backward-compatible with USB 2.0). You plug the flash storage module into the adapter, and then you connect the adapter to your MacBook Air and clone your system to the 256GB flash module.
Details on the upgrade kit are vague. PhotoFast doesn't say whether it will provide the software for cloning the Air's system software, or if you have to use a third-party program like Carbon Copy Cloner.
Once the system software is cloned to the new 256GB flash storage, you can then install it in the MacBook Air. But how? PhotoFast doesn't say if it provides detailed instructions on how to take apart the laptop and install the flash storage. Even if PhotoFast doesn't provide instructions, you could presumably study the MacBook Air teardown on iFixit and figure out where the flash storage is and how to remove and replace it, if you don't mind a little adventure.
By the looks of the iFixit teardown, getting to, removing, and replacing the flash storage isn't tricky—the most difficult part is removing the star-shaped Security Torx screws used on the MacBook Air's bottom cover. Once inside, access to the flash storage is pretty straightforward. But this will probably void the MacBook Air warranty and PhotoFast doesn't state what its warranty policy is.
After the upgrade is installed and the MacBook Air put back together, you can then use the 128GB stock flash storage as a external USB drive by housing it in the PhotoFast Adapter.
PhotoFast also didn't provide details on availabity or pricing of the kit in the United States. In fact, the company's Website says they are looking for a distributor outside of the Japan region.
The company did not respond to e-mails asking for specifics on the GM2 SFV1 kit.
11.6-inch MacBook Air/1.4GHz (128 GB)