MacJournal for iPhone, Mariner Software's writing and blogging companion to its Mac client, has gained its first major update, which brings a handful of new organization features and support for iOS 4.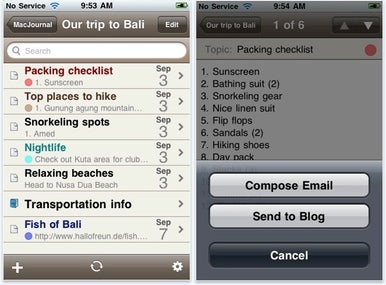 New features in MacJournal for iPhone 1.1 include color labels for helping entries to stand out in a list, as well as tags to add organizational and search flexibility. You can now change an entry's information (title, journal, tags, and label) while editing it. Previously, you could only do this by switching to edit mode while viewing a list of entries.
This update brings multitasking under iOS 4, and syncing with MacJournal on a Mac has been streamlined. Unordered lists are supported and automatically created when beginning a new line with an asterisk. Lastly, the app's overall interface has been warmed up with a new, softer color scheme.
MacJournal for iPhone 1.1 is available now in the App Store for $5. It requires an iPhone or iPod touch running iOS 3.0 or later.