Vigua Games' Zombie Escape for the iPhone takes the classic zombie game format and turns it on its head. The purpose of the game is not to kill zombies, but to survive them. In this top-down path-drawing game, your task is to get as many humans evacuated to safety as possible. With a diverse set of challenges and a unique style, Zombie Escape offers a refreshing take on the path-drawing genre.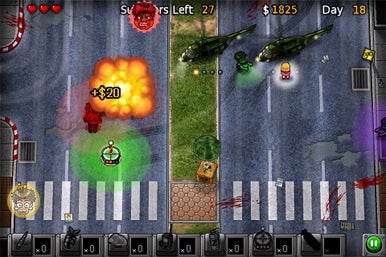 In Zombie Escape, you take control of a military commander tasked with evacuating civilians from zombie invested parks, airports and avenues. From your overhead view, you'll see zombies, humans, and the helicopter safe zone which is your goal. If you tap a human with your finger, you can draw a safe route to a helicopter. Thanks to a warning system, if zombies ever get too close to the humans, you can quickly adjust evacuee routes to avoid the brain-eating monsters.
If drawing avoidance routes doesn't work, you can use a variety of different weapons to fend off zombies. Weapons include sleeping gas, sniper rifles, and bombs. Other avoidance techniques include flinging meat at zombies and setting down safety zones that keep zombies away from your humans. If you fail to protect three humans from a zombie, you fail a level. If you get almost every evacuee to a helicopter, you succeed in a level and move on to another rescue location.
I found the game both captivating and challenging. As you progress through Zombie Escape, evacuations get tougher and tougher. Sometimes the game will limit the amount of weapons you get. Sometimes it will take forever for helicopters to arrive. In certain levels, you have access to every weapon in your arsenal, but the number of humans you have to protect against zombie attacks is massive (I had the most trouble with these type of levels). The game does a great job at mixing up challenges and I always felt enthralled, never bored.
Graphically, the game is animated 2D. It still provides a pleasing visual experience, as its color scheme is quite pleasing. The blood splatter, for example, is quite impressive. In terms of sound, I got a little tired or hearing the screams of zombie victims, but boy did I hear them clearly. You can turn off the screams, fortunately.
Zombie Escape provides challenging gameplay and is a welcome addition to your iPhone's zombie game collection. For those who have grown tired of Flight Control and other G-rated path-drawing games, Zombie Escape offers a more violent, exciting twist on the formula.
[Sam Felsing is an editorial intern for Macworld.]