Footprintz, a free iPhone and iPod touch app from BlackMoonApps, is a simple locator and fairly easy to use. The app records where you've been—particularly useful if you're in a new place or on vacation and would like to keep a record of your route to help jog your memory later.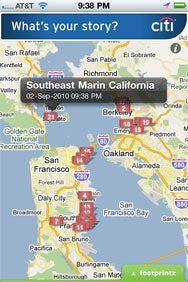 The app stores your movements for the past seven days. If you'd like to keep a longer record or your comings and goings, you can add that capability via an in-app purchase. You can pay anywhere from $1 for a month's worth of tracking up to $4 for two years.
The multitasking app runs in the background of your iPhone 3GS or iPhone 4, tracking and numbering your location on a map as you travel about town. (Footprintz will work on the iPhone 3G, though you'll have to keep the app open for it to save your locations, as 3G models don't support iOS 4's multitasking capabilities.) You have a choice between high- and low-accuracy locating. Selecting high accuracy uses a lot more battery power (since Footprintz uses your phone's GPS features), while low accuracy uses cell towers to trace your location. Your battery will last longer, though Footprintz's records might be a little off.
In my tests, using the high-accuracy mode didn't prove to be foolproof. One one occasion, Footprintz had me in one location when I was someplace else. My tests of the low-accuracy method provided even more variable results.
That's not to say Footprintz wouldn't be a valuable app for helping you remember the places you visited when you're a stranger in a strange land. Just don't expect foolproof results, even when you use the high-accuracy mode to chronicle your travels.
[Ann Chihak Poff writes a health and fitness blog, Go Fit Girl.]