6th Mega's Puff Puff for iPhone takes one of the major events of the past several months, the BP oil spill in the Gulf of Mexico, and uses it as a backdrop for an arcade game on the iPhone. You play as a fish just trying to survive. But due to predatory forces—both natural and human—life can be all too brief.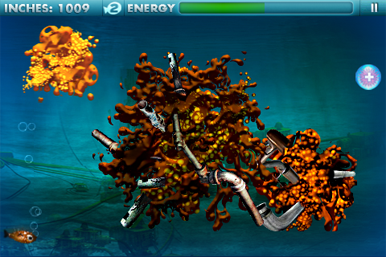 Before the game begins, players are offered a choice of two very different settings: coral reef and gulf spill. The former is a cuter world, featuring clear water, a shipwreck background, and treasure chests. The gulf spill version is murkier and downright dreary. Here, dead turtles float through abandoned oilrigs while scuba divers wave signs pleading, "Anyone help us." Its message is pretty clear.
Puff Puff is an underwater game that hands out points for every moment your puffer fish manages to stay alive. Unfortunately, several factors interfere with your attempts at living. First, like most arcade games, you must avoid crashing into harmful objects. In Puff Puff, these come in the form of coral reefs, oil spills, and sharks. Avoiding the obstacles is usually simple, but the game features some tricky spots where it's hard to escape a stretch of ocean uninjured. Luckily, there are extra lives scattered about the ocean floor, so even if you get caught in a faceoff with a Great White, you're not necessarily done for. Floating sea urchins are also beneficial to take a bite out of. These offer helpful tools like bursts of speed (which automatically garner more points) and temporary shields from danger. The pink energy urchins marked with a plus sign are necessary for keeping energy up. But be careful when the energy meter at the top of the screen reaches the dangerous black level; running out of energy is yet another way to perish in Puff Puff.
It takes some work to master the strange maneuvering techniques of Puff Puff. The game is controlled by pinching and stretching on the screen. This in turn makes the fish puff up or deflate; his buoyancy depends on how full of air he is. Unfortunately, the game isn't very sensitive to the pinch and stretch controls so there's some clunkiness to your movements. Sometimes, the fish bobs up and down a bit before reaching the level he'll ultimately swim at, causing you to miss a targeted sea urchin. Using the iPhone's accelerometer, you can also tilt the phone left and right to determine how far forward on the screen he swims. This becomes useful when you need to slow down and figure out how to get through a tricky stretch of ocean.
While the game is great in itself, my favorite part of the app is certainly the good that comes out of purchasing it. 6th Mega pledges thirty percent of proceeds to ecosystem restoration. Can you think of a better reason to cough up the dollar it costs (and insist all your friends do the same)?
[Stephanie Kent is an editorial intern for Macworld.]