I don't want to come off sounding like a cheapskate, but I've become very annoyed with the outrageous cost of text messaging. In the U.S., AT&T charges 20 cents per message without a plan, and $5 per month for a 200-message plan. Sure, it doesn't sound like much, but if you do the math, it's highway robbery. And it gets worse if you send texts to people outside of your native country. Good news, though. There's a way that we can rebel against this text messaging tyranny and send unlimited numbers of text messages to anywhere in the world for the low, low cost of $1—forever. Fight the Power!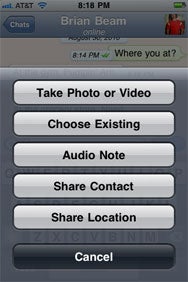 WhatsApp provides an alternative texting service that closely resembles standard SMS text messaging. The one and only limitation is the requirement that your friends also have the $1 WhatsApp Messenger app installed on their phones. I don't think that's a huge obstacle since the app is inexpensive, available on both the iPhone and Blackberry (and, as of this writing, a version for Nokia phones is in beta while one for Android is in development), and is very easy to set up.
The app walks you through the quick setup process the first time you open it. You register your phone number with the WhatsApp service. It verifies your identity by sending a code (ironically, via a standard text message) that you then enter into the setup screen. After that, the app asks for permission to look through your address book for contact numbers that are already registered with WhatsApp and then places them into your your list of Favorites. Then you're finished and ready to start texting with your peeps. However, if you're the early adopter within your circle and none of your friends have downloaded the app yet, then you're not going to have anyone to talk with. Luckily, the app makes it easy to invite your friends to download the app, either by sending them an e-mail or a standard text message.
So, once you and your friends have gone through this short procedure, texting via WhatsApp Messenger is similar to standard SMS messaging… only much cheaper. Messages are usually received very quickly and notifications appear via push, which you can configure in the iPhone's settings if you want.
Unlike standard text messaging, though, you can set a status message which other WhatsApp users can see, both in the Favorites page and in the main contact list. And not only can you send photos, but you can also attach audio and video notes, and even your geographic location to WhatsApp messages. Plus, it provides an easy way to save your message history as a text file.
Unlike standard SMS messaging, WhatsApp uses your phone's data plan to send and receive messages. So if you use the app a lot, then your data usage will likely increase. (You can monitor these stats from within the app.) Similarly, if you travel outside of your phone carrier's supported area, it's possible that you'll incur data roaming charges if you leave that option enabled. Staying attached to a Wi-Fi connection should alleviate most of those concerns.
Interestingly, the WhatsApp Messenger FAQ page mentions that the app is also compatible with the iPod touch, which seems logical since the app can operate over a Wi-Fi connection. (The current iTunes listing also lists iPad compatibility.) I don't have an iPod touch, so I can't vouch for how well it works, but I can confirm that the app does not work on the iPad. A note to the developer yielded a quick reply saying that since the app is really designed for use with cell phones, iPod touch compatibility will be removed in the near future. So until this information gets updated on WhatsApp's Web site and on the app's iTunes listing, iPhone touch and iPad owners be forewarned.
For those of you who are extra-security-conscious, you might be concerned that your phone number is known to the app's developer and that all messages go through its servers. The privacy page on the WhatsApp Website states that the company will Do No Evil with your data and the developer let me know that messages are stored on its system only until they have been retrieved, at which point they are deleted. WhatsApp also confirmed that WhatsApp text messages, like most e-mail messages, are sent across the Internet unencrypted (contact data is encrypted, however). That's not necessarily a problem; just something certain types of users may need to be aware of.
Overall, WhatsApp Messenger is a huge benefit to the iPhone community and to smartphone users in general because it lets you keep the text messages flowing to your friends for free… arguably, for the same price that they cost cell phone providers to deliver. Texters of the world, unite! You have nothing to lose but your expensive texting plans.
[Brian Beam is a web developer and partner with BOLD Internet Solutions, living somewhere near Kansas City.]