With the abundance of accessories available for the new iPhone and iPad, owners of the new Mac Mini might feel a bit left out. Fortunately, Macessity is answering the call, with three new products specifically tailored for the 2010 Mac Mini.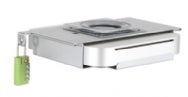 The MX4-V2 is a rack tray designed to hold up to four Mac minis. The $80 tray features designated drop-in openings that help keep the Minis in place, and includes a complete set of mounting hardware.
The Mi360 (pictured) is a $50 rotating mount bracket that lets you mount your Mac Mini under your desk or elsewhere while still maintaining access to its many ports. The Mi360 is equipped with a full bearing system that allows it to make smooth, continuous turns while keeping your Mac Mini safely tucked away in a protective compartment. It can also be wall-mounted, which could come in handy if you want to use your Mac Mini alongside, say, an HDTV. The Mi360 also comes with a theft-deterring locking tab—the lock's not included—that helps secure your Mac Mini for use in schools or businesses.
Finally, the MiClassic Mount Bracket for Mac Mini is an update on Macessity's Hang With Mi mount bracket, redesigned to accommodate the 2010 Mac Mini. The $55 MiClassic comes with a powered 4-port USB 2.0 hub, and can be modified with an optional, $20 Swivel Bracket that gives it a rotating ability much like the Mi360.
All three products are available for order now from Maccessity's online store.
MiClassic Mount Bracket for Mac Mini (2010) with USB2.0
Mi360 Rotating Mount Bracket for Mac Mini
MX4-V2 Rack Tray for Mac Mini (2010 model)