On Monday Orb Networks introduced the Orb Music Player (MP-1), designed to let you stream audio from your computer and various Internet sources to your stereo.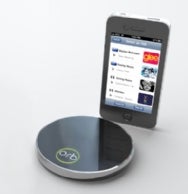 Here's how it works: install the free Orb Caster server software on your Mac or Windows PC (or multiple computers), connect the MP-1 to one of your computer's USB 2.0 ports to configure it (then disconnect it), then connect the MP-1 to the included power cable and to a stereo or set of powered speakers using the included audio cable with RCA-style analog connectors.
You can them stream audio from your computer (including unprotected content in your iTunes library) or from Internet-based music services Pandora, Rhapsody, and Sirius/XM over 802.11b/g/n Wi-Fi. You can also connect multiple MP-1s around the house, and you control playback using the Orb Controller software for iOS or Android devices.
The MP-1 supports MP3, MP3 VBR, Audible (formats 2, 3, and 4), AAC, WMA, and WAV formats (as well as what Orb simply calls Lossless), and 24-bit resolution. It requires a Mac with an Intel processor running OS X 10.5.1 or later.
The MP-1 costs $100, but is available now for an introductory price of $70 (although it's unclear how long that price will last—the company's Web store displays a coupon showing the offer expires on September 19, the day before the launch). The Orb Controller software for iOS devices normally costs $10, but is available for free as part of the introductory offer as well.
Of course, you can do many of the same things with Apple's $99 AirPort Express ( ), which also provides digital audio output, a USB port for printer sharing, the ability to extend your wireless network, and more. However, right now you're the AirPort Express limits you to streaming iTunes audio unless you spring for Rogue Amoeba's $25 Airfoil ( ) software.