Despite technological leaps and bounds in nearly all aspects of our lives over the last century, today's typical ruler is virtually the same as it was 100 years ago. But if app developers Andrew and Alexa Kaz have their way, the stubbornly analog ruler may become a thing of the past. They've upgraded their Ruler app to version 2.0, completely redesigning it with improved usability and iOS 4 support.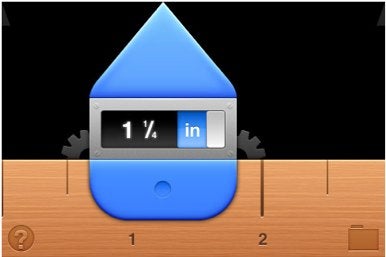 Ruler 2.0 takes advantage of its digital medium in a number of ways. For one, you don't need to eyeball the measurements or deal with the tiny markings of a regular ruler; simply align a pointer on the ruler app and precise measurements appear instantly.
Other advantages of this app over traditional rulers include the ability to convert between inches and centimeters with a single tap, as well as copy and paste values into other apps like Calculator and Mail. You can even measure devices longer than your iPhone or iPad's display by using a technique that involves swiping the screen according to the extra length you'll need.
New features in Ruler 2.0, aside from an updated interface and appearance, include the ability to save your measurements for future reference, view inch values as fractions, and view an instructional walk-through for measuring long objects with the app.
Ruler sells for $1 and is a universal app that runs on any iPhone, iPad, or iPod Touch running iOS 2.0 or later.