Adobe has launched Adobe Premiere Elements 9 software for both Mac and Windows, the first time the company's consumer-level video editing app has been released on the Mac platform.
"With video-capturing devices on the rise, people are looking for a complete video organizing, editing, and sharing tool that is easy to learn and use," said Kevin Connor, vice president of product management for digital imaging at Adobe. "We are very excited that our latest version of award-winning Premiere Elements software will enable both Mac and Windows users to create high-impact movies quickly and effortlessly. Taking advantage of intelligent features and boosted performance, the software allows users to get creative and make fun movies without a steep learning curve."
Intelligent organizer
Premiere Elements offers the new Organizer, which acts as a media hub, so users can access video clips and photos from a single location.
The software can import a variety of file types from a range of devices from the Flip Video camcorder to video from DSLR cameras and iPhones. The software's Auto-Analyzer feature automatically tags the most interesting, highest quality video footage—to assist users in sorting through a multitude of clips.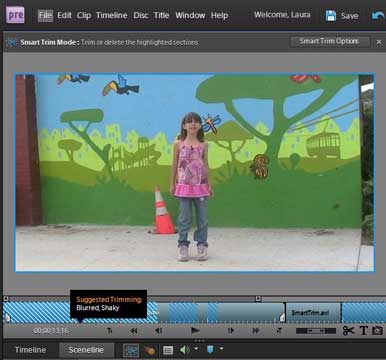 Premiere Elements 9 allows users to create videos in minutes, as well as fix audio problems, automatically trim bad footage, stabilize shots, and correct color and lighting, the company says.
Users select the footage they want, and either create or enhance movies in just a few clicks or via simple drag and drop effects. For example, the software's Cartoon Effect can transform a video into an animated feature. The program's optimized performance makes editing and viewing smooth, even in HD, according to Adobe. The software also facilitates interactive DVD-like viewing on the Web and lets users share directly to Facebook and YouTube.
Users in the U.S. now have the option to purchase Plus, which offers 20GB of online storage for automatic backup and sharing (up to 15,000 photos or four hours of DVD-quality video, Adobe says), as well as ongoing delivery of creative extras and assets to the desktop software. The Plus service provides instant access to photos and videos online or via mobile devices at Photoshop.com.
Pricing and availability
Adobe Premiere Elements 9 is available now at Adobe's Website and will be available soon at other online and store-based retail outlets for $100. Users can subscribe to Plus from within the product for $50 a year. The program is also available as a bundle with the concurrent release of Adobe Photoshop Elements 9, for $150. It works on multi-core Intel processors and is compatible with Mac OS X 10.5.8 or higher.
Information about non-English language versions and pricing, upgrade, and support policies for countries outside the U.S. is available on Adobe's Website. Users can view free training videos at Adobe TV.