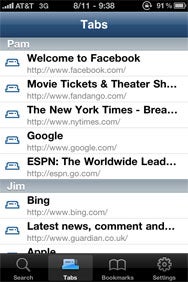 Firefox Home, Mozilla's "don't call it a browser" app for the iPhone and iPod touch, has received a minor update that brings a number of new features and support for 16 languages. Most notably, Firefox Home has finally become the browser it should have been all along.
For those who aren't familiar, Firefox Home 1.0 was positioned and designed as a mobile client for the desktop version of Firefox—not an actual browser. Once you install the Firefox Sync plug-in on your Mac or PC, you can access your Firefox bookmarks, history, and open tabs on your iPhone or iPod touch. The odd catch, however, was that Firefox Home 1.0 had no address bar with which to browse to sites that you had not visited or bookmarked on your computer.
Among the new features in Firefox Home 1.0.2 is an address bar, arguably the key feature that an app needs to be called a "browser." You can finally type any address into Firefox Home, or type part of a URL to try and find the actual site on the Web. Mozilla added Firefox 3.0's "Awesome Bar" feature in this update as well, allowing you to search your bookmarks and history.
Other new features include end-to-end encryption for the Firefox Sync process, one-way refresh of your Firefox information from your computer to your mobile device, and support for running Firefox Sync on your own server.
Of course, it's also worth noting that while Firefox Home may be one step closer to a browser, it's still not precisely Firefox—due to Apple's developer restrictions, it continues to run the same WebKit engine that powers Safari, and not the Gecko engine that the desktop version of Firefox uses.
Firefox Home is free on the App Store. The version 1.0.2 update is available now and requires an iPhone or iPad running iOS 3.1 or higher.