Marcel Bresink has updated TinkerTool, his utility for customizing a number of hidden OS and app preferences, with access to yet more options for Mail, iTunes, Safari, and even the Dock.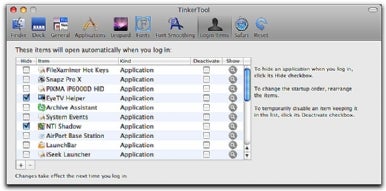 TinkerTool 4.2 gains a system-wide preference to make Snow Leopard and the new iTunes 10 (in all its bizarre window toolbar glory) use the standard window title bar layout and horizontally aligned window buttons. You can set Mail to display the plain text version of messages and disable all RSS features from Safari 4 and 5.
Another new preference allows 10.5 Leopard and 10.6 Snow Leopard owners to hide all apps when using the Dock to open or switch to an app.
Other tweaks and preferences rearranging round out TinkerTool 4.2, which is a free app that requires Mac OS X 10.4 Tiger or later.