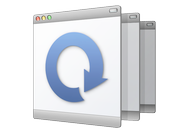 Many Tricks and St. Clair Software have joined forces to fix an issue that arose when running the former's Mac Gem Witch simultaneously with the latter's recently released App Tamer.
As mentioned earlier by Macworld, Witch's magic window-specific app switching was broken by App Tamer's CPU-saving ability to halt background applications, but the newly-released Witch 3.5.5 solves this problem. App Tamer is also receiving an upgrade to 1.0.1 shortly, which removes a warning about Witch's incompatibility. Both updates also have minor maintenance and bug-fixing tweaks.
Both upgrades are free for registered users. App Tamer is $15 with a 15-day free trial; Witch is $19 with a free 250-switches trial. So far, I've been running both, using the Witch beta, without problems, which bodes well.