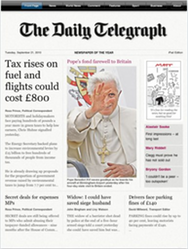 For those interested in a more worldly take on the news, the U.K. publication The Daily Telegraph has released The Telegraph for iPad.
The news app gives you access to The Daily Telegraph's news stories, as well as the editors' selections from its daily newspaper. You'll also get access to the U.K. news, World news, Sports, Business, Comments, Features and analysis, and a daily cartoon by the publication's in-house cartoonist.
The app requires a daily download, which updates you with the entire day's news and allows you to read it offline. A new download is available in the App Store every day from 5 a.m. BST (that's midnight Eastern).
For a limited time, The Telegraph for iPad—which requires iOS 3.2 or later—is available for free thanks to a partnership with Audi. Details on pricing after that are unavailable.