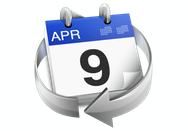 If you've been holding off on upgrading to the MobileMe Calendar beta due to reliance on BusyMac's BusyCal, then you're now one step closer to the future: the company has released a public beta of BusyCal version 1.5, which brings support for Apple's new calendar system.
With the MobileMe Calendar beta, which began rolling out this summer, Apple switched over to the CalDAV standard for its online calendaring. For most purposes, that's a positive. However, BusyCal didn't support the new system, meaning that users of the program were left out in the cold.
The 1.5 beta adds now support for MobileMe syncing, though the process of migrating your current calendars can be a bit involved. BusyMac has also provided a good overview of how the new MobileMe Calendar beta changes the way calendar data is handled.
There are still a few caveats to be aware of before you dive headfirst into the pool. For instance, due to the way the MobileMe beta works, all synced calendars are now hosted in the cloud rather than on individual computers. So if you're currently using BusyCal to sync calendars via the local network or Google Calendar, those calendars will by default be copied to MobileMe and no longer sync—however, you can delete the MobileMe versions of them and keep syncing them with BusyCal, if you prefer.
In addition, if you use any of BusyCal's special data types—stickies, graphics, tags, etc.—they'll be lost when transitioning to MobileMe. However, you should be able to restore them from the most recent backup, after which they will sync correctly with MobileMe.
If all of that's not enough to turn you off, then you can download the 1.5 public beta by visiting the Update section of BusyCal's preferences and checking "Include beta versions."