ExpressionEngine is a large, very extensible blogging and Website platform that caters to businesses and design professionals. It offers a lot of flexibility, and it even has an unofficial iPhone and iPad app.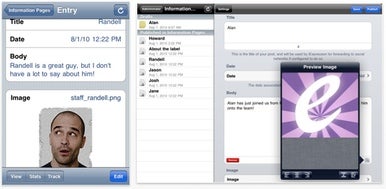 iExpression is a universal app that allows you to manage any number of your ExpressionEngine sites and users. You can create new entries (the equivalent of blog posts) and add them to " channels," an ExpressionEngine term for pages that can contain entries from a mix of categories and topics.
This app can also auto-tweet new entries, track click-throughs from those tweets, geo-tag entries, and view entries live on the Web with an in-app browser, allowing you to make sure they're displayed properly.
In a version 1.3 update released on Tuesday, iExpression gained a number of new features, including landscape editing, editing of previously published entries, browsing and uploading to custom ExpressionEngine upload locations, and support for Smile Software's TextExpander snippet tool.
iExpression is available now in the App Store as a universal app for $10, and it requires iOS 3.1 or later.